GUARDIANS OF HOONAUNAU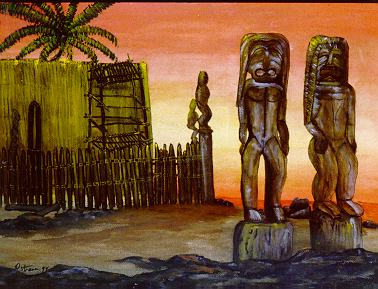 18" x 24" watercolor on paper
In the GUARDIANS OF HOONAUNAU, we find an ancient village. Surrounded by coconut palms and wooden fences. This ancient Heiau and wooden sculpted figures, represent many of their mystical deities. This painting, like ON THE SHORE OF HANALEI is depicted at sunrise by Clifford Ostrover.

This Watercolor painting is available both in it's original form, framed or as a Limited Edition print.
It can also be made available in the following smaller print sizes:
8"x10"
For more information or to place an order call 808 283-1037 or e-mail at art@ostrover.com