PARADISE FALLS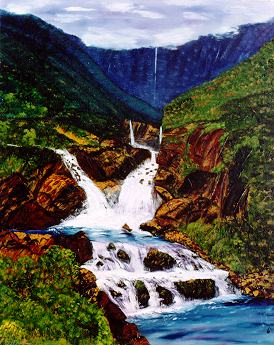 30" X 40" Oil on canvas
The island of Maui is situated in the middle of the Pacific Ocean. It is a paradise with many faces. It is also enamored with tremendous spiritual energy. One can only feel it to believe it!
PARADISE FALLS brings the viewer right into the midst of this wonderful tropical paradise. By placing the viewer at the foot of a series of cascading waterfalls, the artist provides for the senses to experience the full force of this tropical paradise. HALEAKALA is another one of the artists paintings worth experiencing.
This Oil painting is available only as a Limited Edition print.
It can also be made available in the following smaller print sizes:
8"x10"
For more information or to place an order call 808 283-1037 or e-mail at art@ostrover.com