WATER LILIES IN THE STREAM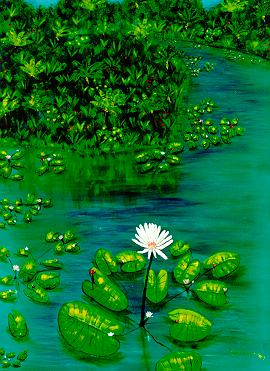 40" x 30" Oil on canvas
WATER LILIES IN THE STREAM is one of Clifford Ostrover's most peaceful and tranquil painting. Clearly a vision of what he terms "Spiritual Harmony in Nature." That type of vision in which we experience the sense that all is well in the world. Here a gentle stream meanders down from the forest beyond, forming a pond in the forefront. The artist's Oil's are often found with a piece of realism attached to them, along with his strong use of color. (To go home click below).

This Oil painting is available both in it's original form, framed or as a Limited Edition print.
It can also be made available in the following smaller print sizes:
8"x10"
For more information or to place an order call 808 283-1037 or e-mail at art@ostrover.com