OCEAN SUNSET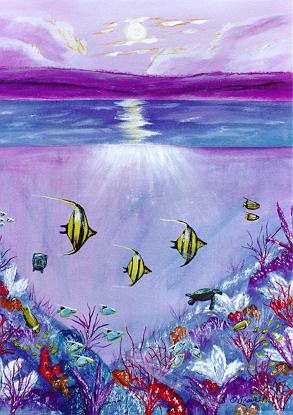 24" x 18" Watercolor on paper
OCEAN SUNSET is one of Clifford ostrover's visionary paintings of life above and beneath the sea. Environmental in its' appeal, this painting, and others, like REFLECTIONS OF THE SPIRIT, have allowed the artist to bring to our attention the beauty and wonder of nature.
This Watercolor painting is available both in it's original form, framed or as a Limited Edition print.
It can also be made available in the following smaller print sizes:
8"x10"
For more information or to place an order call 808 283-1037 or e-mail at art@ostrover.com