JAPANESE BRIDGE & WEEPING WILLOW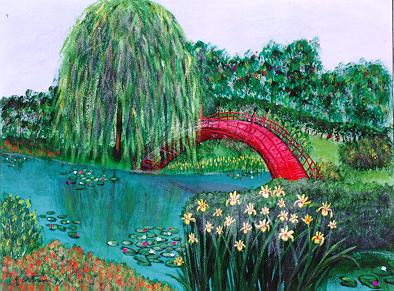 18' x 24' watercolor on paper
JAPANESE BRIDGE & WEEPING WILLOW is just that! A stream, like that of WATER LILIES IN THE STREAM with Irises and a Japanese foot bridge crossing the stream. Here we find a scene where we fully experience a sense of peace, tranquility and harmony within nature.

This Watercolor painting is available both in it's original form, framed or as a Limited Edition print.
It can also be made available in the following smaller print sizes:
8"x10"
For more information or to place an order call 808 283-1037 or e-mail at art@ostrover.com