CANOE AT PU'UHONOA AT HOONAUNAU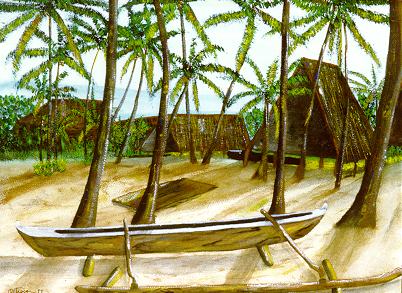 24" x 18" Watercolor on paper
CANOE AT PU'UHONOA O HOONAUNAU, is a Watercolor painting in which Clifford Ostrover brings us right into this ancient village. We can feel this silence that is prevalent here in the ancient "City of Refuge", as in the GUARDIANS OF HOONAUNAU while at the same time we can almost feel it's connection to modern day. The peace, quiet and serenity that once allowed this site to be a sanctuary for many native Hawaiians, still remains so.
This Watercolor painting is available both in it's original form, framed or as a Limited Edition print.
It can also be made available in the following smaller print sizes:
8"x10"
For more information or to place an order call 808 283-1037 or e-mail at art@ostrover.com